Worldwide public cloud spending heading for US$600 billion
Worldwide public cloud spending on track for US$600 Billion this year. Phone market slump continues. One New Zealand offers handset eco ratings.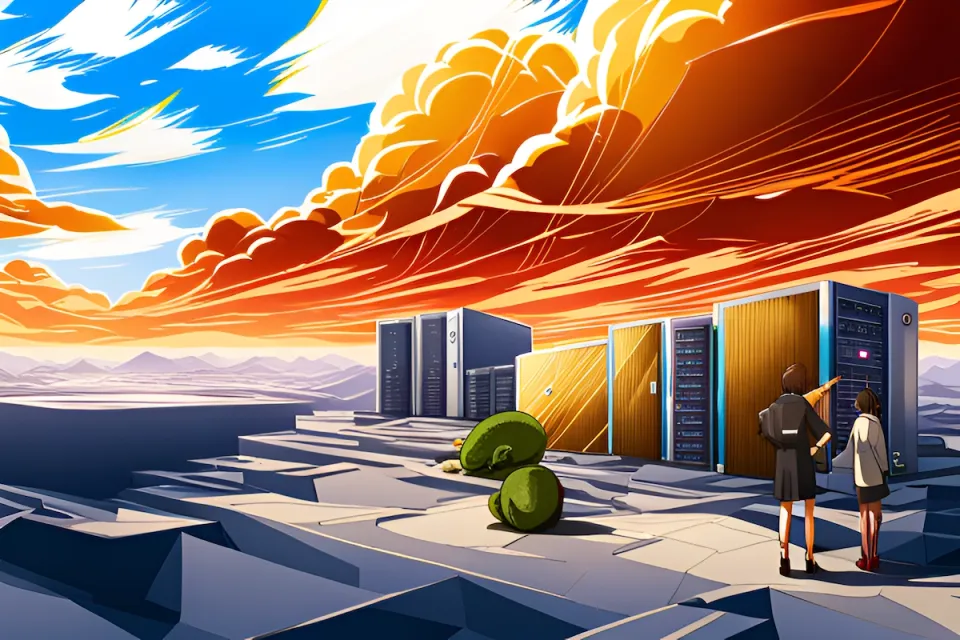 If you found yourself wondering why the cloud hyperscalers have chosen this moment to build in New Zealand, the answer lies in Gartner's latest cloud forecast.
The analyst firm expects worldwide end-user spending on public cloud services to grow 21.7 per cent this year. Gartner's forecasts the spend to hit US$597.3 billion, that's $600 billion bar a rounding error.
That figure is forecast to grow a further 20 per cent plus the following year to reach US$725 billion in 2024.
Gartner says out loud what we all know: Cloud computing is driving the next phase of digital business. Companies are looking to disrupt their markets using tools like generative artificial intelligence.
The analyst company's press release also mentions Web3 and the metaverse as drivers of cloud demand, but these are both as likely to bust as boom. AI in comparison appears to be on an unstoppable trajectory and is a massive consumer of cloud capacity.
The LLMs or large language models which sit at the heart of generative AI need an enormous amount of on tap compute power along with heroic volumes of storage. This work needs to operate in real time.
Sid Nag, a Gartner vice president says: "Cloud offers the perfect solution and platform. It is no coincidence that the key players in the generative AI race are cloud hyperscalers."
It's not a simple question of more cloud capacity. There is a demand from users for their cloud vendors to offer ever more sophisticated services. The hyperscale cloud companies, most notably AWS and Microsoft are doing this to the point where it is hard to keep track of the slew of new options.
Away from the giants, smaller cloud players are building niche capabilities to better service specific geographic or application niches.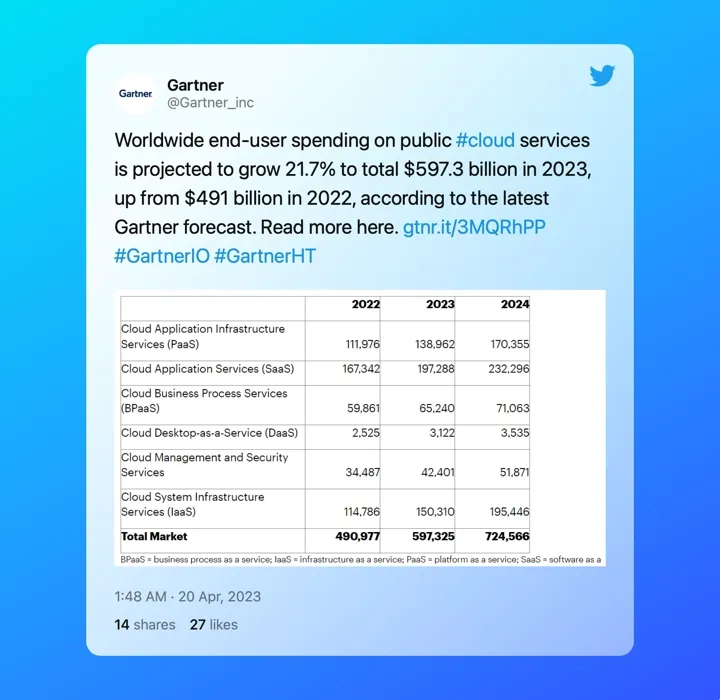 Google Cloud makes its first profit
Google's cloud business reported revenue of US$7.4 billion for the quarter that end on March 31. More important, the business made its first ever profit. Not much mind, the company's operating income was US$191 million, that's 2.5 per cent.
Hyperscale rivals Amazon Web Services and Microsoft dwarf Google Cloud. Last year AWS enjoyed a profit margin north of 25 per cent on a turnover of $80 billion – more than ten times Google Cloud.
---
Phone market remains in doldrums
IDC reports that worldwide phone shipments dropped 14.6 per cent year-on-year to 268.6 million units in the first quarter of 2023. It is the seventh quarter in a row that phone shipments have dropped. The drop is ahead of IDC's earlier estimate for the quarter.
A poor economic outlook is one reason for the continued decline and the lack of enough innovation to excite customers and bring forward upgrades. IDC says it expects a recovery later this year.
Samsung remains the leading supplier of phones with a 22.5 per cent market share during the quarter. Apple follows closely with a 20.5 per cent share. After the two leaders it is largely minnows; Xiaomi is in third place with a 11.4 per cent share.
Apple tops second hand phone market
Separate analysis from Counterpoint Research says sales of refurbished Apple iPhone grew by 16 per cent in 2022. Apple's share of the "secondary" phone market is almost 50 per cent. Samsung accounts for around a quarter of the secondary phone market.
While this may depress the market for new iPhones, Apple wins because it increases demand for the lucrative subscription services the company sells.
---
One New Zealand debuts eco rating for phones
One New Zealand (formerly Vodafone) says it is introducing a "consumer labelling framework" to guide customers towards more environmentally friendly mobile phones.
It will use an internationally established Eco Rating that adds up the impact of a phone throughout its life to reach a score. Any phone that scores 100 is near perfect, the nearer the phone is to 100, the lower its environmental impact.
---
Microsoft offers Windows 11 to iPhones link
Microsoft has updated its Phone Link software to add support for iPhones. The Windows 11 software allows iPhone uses to send and receive iMessage messages, view notifications and receive voice calls on a Windows PC or laptop. The software will be available by the middle of May.
---
Apple's iPhone 14 Pro Max and Samsung's Galaxy S23 Ultra are feature-packed premium phones. They have fast processing speeds, first-class screens, long battery life and top notchj cameras. Both claim to offer the most complete phone expereince you'll see in 2023. Is one right for you?
---
In other news
Stuff is preparing paywalls for some of its media brands. The Wellington-based news publisher says its Stuff.co.nz will remain free, but it will charge a subscription for access to the online editions of The Dominion Post, The Press and Waikato Times. The New Zealand Herald has operated a successful paywall since 2019.
A report from the Regional Technology Investment Network says Auckland's top tech export companies have grown five times faster than the city's general economy over the past five years
SpaceX plans to use its massive Starship rocket and booster to lower the cost of LEO satellite launches were set back this week when the first rocket launch exploded after four minutes. The explosion was triggered by the rocket's automatic self-destruct system.
Regulators in the UK have thrown a spanner in Microsoft's plan to buy gaming company Activision Blizzard. The UK's Competition and Markets Authority blocked the deal saying Microsoft's proposed remedies to concerns about competition in cloud gaming has significant shortcomings. Microsoft controls between two thirds and three quarters of the cloud gaming market, acquiring Activision would make its position unassailable.
Microsoft will be crying all the way to the bank. This week the company's first quarter result showed a seven per cent climb in revenue to US$$53 billion, that's ahead of market expectations. Much of the growth comes from Microsoft's Azure cloud computing business which was up 27 per cent year-on-year and increased interest in the company's Office productivity tools.
---
---
The Download Weekly is supported by Chorus New Zealand.