Android: A practical guide for iPhone switchers
Phone buyers tend to stick with their choices for the long-haul.
More than nine-out-of-ten iPhone owners pick another Apple phone. Android owners move between brands. Even so, they are more likely to buy another Android than switch to Apple.
Staying with one phone operating system makes sense. We invest money, time and energy in our apps, music, other media and services.
Moving from one phone operating system to another can be a wrench.
It can also mean more expense than the simple cost of buying new phone hardware.
Apple users tend to spend more on everything phone-related than Android owners. They buy more apps, services and music. That is a form of lock-in.
Learning
Even if you didn't spend much money on extras, you spent time learning to use your phone.
Switch brands and the learning starts all over again. Some people enjoy that. Many do not. Yet this learning amounts to another investment. It is also a different kind of lock-in.
Don't discount lock-in. It can be significant. Lock-in is a form of inertia which adds friction to moving between phones.
It means you need to be unhappy or desperate to consider a switch. Moving phones is not something you should do lightly.
Money
One reason Apple owners move to Android is money. On the surface it looks like you can save money by switching.
Take care with that line of thinking. The money you save buying a cheaper Android phone may be less than your investment in everything iOS. Don't discount the time cost it takes to adjust to a new phone, or the cost of lower productivity.
In the real world, we should talk about perceived savings when switching phones.
Let's assume you've decided you can't live with Apple any longer. You've thought through the financial and productivity implications.
You've decided to move to Android. What should you look for? Which brands will give you the best Android experience and what traps can you avoid?
Bewildering Android choice
The first big difference between Apple and Android is choice. Most Android phone models come in a bewildering array of variations. Phones often have cheaper lite version. Some are small versions of large screen premium models. Others have less processing power or built-in storage.
Another difference is that the main Android phone brands have more than one range.
At the time of writing Vodafone New Zealand lists 10 distinct Samsung phone models from the Galaxy S8 to the Galaxy J1. 2degrees has 12 Samsung choices. There are five Huawei models and three Sony phones at Vodafone. 2degrees has five Huawei and one Sony phone.
In New Zealand, iPhone 7 prices run from NZ$1200 to $1829 for the 7 Plus. The top iPhone costs 20 percent more than the most expensive Android phone on sale here at the moment. If you are interested that would be Samsung's $1500 Galaxy S8 Plus.

As a rule iPhone users will be more interested in the premium Android phones. Prices are not that far behind Apple. If you need to save money, head further downmarket.
That doesn't mean rock bottom. You can save a lot more than 20 percent on the price and still get a decent Android phone. At $700 the Oppo R9s is less than 40 percent of the price of an iPhone 7 Plus.
Direct comparisons with Apple's phone are not fair. They don't compared on features or functionality. Yet, if you choose an R9s you'll get a lot of change from the price of a basic iPhone 7. That's a lot of money to spend on apps, music or elsewhere.
Oppo is an Android phone brand where Apple users will feel more at home than, say, Samsung.
While the R9s is not an iPhone knock-off, its design borrows much from Apple. In low light you might mistake it for an iPhone.
Skin deep
Many Android phone brands load a software skin on top of the Android operating system. Oppo's software skin has a distinct iOS look. It seems familiar. That's about where the comparisons end. You won't mistake the R9s for an iPhone in use.
There are compromises moving to a low-cost Android. Cheaper phones don't do as much. For many people the most noticeable difference is in the camera. Although the Oppo R9s has a great camera for a $700 phone, it doesn't hold a candle to iPhone. Nor is Oppo's camera software as easy to use as Apple's.
If you don't care for photography, this won't matter. If you do, then you could save a decent amount of money towards paying for your next digital SLR.
You will find the R9s doesn't feel as nice in the hand and it takes longer to perform some tasks than the iPhone. The screen isn't as good either. While this is often harder to notice on a conscious level, it will register with your brain at some level.
If you use phones for social media more than anything else, these deficiencies may not matter. If your phone is where you get most of your work done, you may want to invest in a more powerful alternative to Apple.
Samsung, the obvious Android choice
For years pundits have written about Samsung's iPhone killers. That's a ridiculous cliche. And a crass, clickbait-driven line of thinking. Samsung is the one Android phone maker you could describe as Apple's rival1.
Like Apple, Samsung makes beautiful hardware. Like Apple, the company innovates. While Samsung fans argue the brand innovates more than Apple, comparisons are meaningless. The two brands exist in parallel universes.
Still, the Galaxy S8 has to be at the top of any iPhone alternative list.
Huawei, Sony
Huawei is number three in market share. The company plays leap-frog with Samsung when it comes to who has the best premium Android phone. For a while earlier this year, the Huawei Mate 9 Pro was top dog.
Sony also makes great Android phones. The company doesn't have the market share or the presence it deserves in New Zealand. That makes it a less obvious choice.
Departing from iPhone expectations
Once a year Apple announces new iPhone models and updates the iOS operating system. As a rule of thumb you can upgrade every Apple phone from the last couple of years to the new software without a hitch. It gets trickier with older iPhones. One more than four years old might not make the transition.
In practice, almost every iPhone owner will make the update soon the software release. The only exceptions are where key apps don't work with the new iOS. Users may decide they'd rather have that app than new operating system features.
Google updates Android software on a similar schedule. Android phone users often don't get to upgrade their software. Some phone makers are slack about Android updates. Huawei is notorious for this, but others can be as guilty. Even the ones who make update can be slow and they may not update all models at the same time.
The upshot is that many Android phone owners are on older versions of the phone operating system. This can be confusing.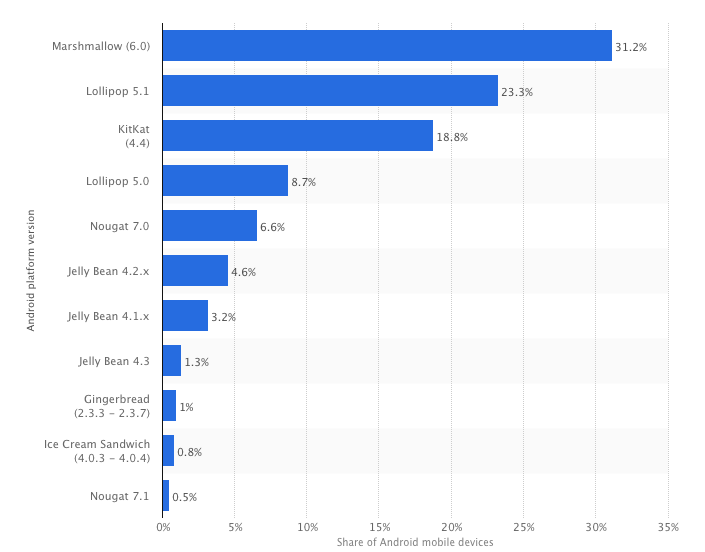 Take a look at this graph from Statista. It shows the distribution of operating system versions in use in May 2017. Only seven percent are on the latest, Nougat, version of Android.
Around a third are on the previous version. About a third are on the last-but-one version. That's a more than two-year old operating system. The remaining users are on even earlier versions.
Fragmented Android
Apart from anything else, this fragmentation spills over in to the app world. It can be a source of friction with long-time Android users although some swear it doesn't bother them. It's something that will confuse many people moving from Apple.
If this bothers you, but you're committed to Android, consider buying a Google Pixel phone. Google manages the Pixel brand itself. It means you're guaranteed to get the purest Android experience. You'll also get timely software updates soon after Google releases the new code.
Pixel phones can be hard to find in New Zealand, although some stores stock them. They're not cheap, expect to pay around NZ$1300.
Like it says at the top of this post, you need a good reason to move from one phone operating system to another. The transition can be painless, it may even be trouble free. Only you can decide if the cost and effort makes the move worthwhile.
Similar issues confront an Android user switching to Apple. Some people make the move without a single glance back. Others pine for a feature that Apple doesn't offer or doesn't do as well as on the Android phone. It's something of a lottery.
---
Samsung may sell more phones that Apple. But Apple makes the real money. This is not a volume game. ↩︎